Sophia Australis

..o 0 o..
---
Concert Recital for the New Year
Michael Centre, Melbourne


Marcia Burchard | Marcus Cox | & others - Sunday 1st Jan 2017
Eurythmy for everyone!
[B]risbane | [M]elbourne

December 2016 - January 2017 Workshops


Four Elements [B]| Nine Beatitudes [M] | Descent of Christ [M]
Registrations are now open for the December 2016 and January 2017 Workshops. If you're planning to make a group booking, please contact Alison to ensure places are available.
Download a pamphlet or view more information by clicking on the image below. You may also register online here.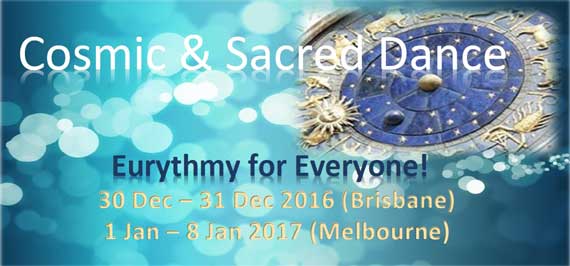 ---
'Sophia' refers to the spiritual being indicated through such works as those of Vladimir Solovyov, Rudolf Steiner, Sergei Bulgakov, Valentin Tomberg, and Pavel Florensky.
The main activities of Sophia Australis include participation and workshops in ChoreoCosmos, presentations on aspects of the Divine Sophia, as well as periodic activities consistent with the object of the association as outlined in our Constitution, which is to:
cultivate a deeper understanding of Divine Wisdom, integrating philosophy, religion, science and the arts;

create a vessel for a path to Sophia through study, dance, eurythmy, anthroposophy, prayer, meditation, and community celebration;

serve Divine Sophia by engaging in creative activities which seek to express Divine Love;

publically represent and encourage any of the above in publications, events and practices.